Welcome to our "Irish Homelands" feature for November, 2017. This month, we are heading to Belfast City in the south of County Antrim (and a little bit of County Down). 
Each month, we  travel to the townland, village, town or city associated with a Green Room member's ancestry (to become one of our Green Room members of the month, you need to be a Green Room member ).
Introducing our Member of the Month.
Our November 2017 member of the month is Colleen Carpenter from Florida in the USA! Her Lyttle ancestors came from Belfast City. Hi Colleen!
Although this article is written about Colleen's ancestors – it is open for all Green Room members to participate and enjoy! You will find video, pictures and commentary – and it is all best viewed on a laptop or PC rather than a phone. We will start with Colleen and the story of her ancestors – then share what we discovered, and put it into the context of the land and events around Belfast City in the later part of the 19th century and early 20th century.
What We Were Asked To Do.
Colleen contacted us with her request – and here is a summary of what she provided:
Lizzie Lyttle with her husband

My grandmother Mary Elizabeth Hester Lyttle was born in Belfast on 10 February 1898 to James Lyttle and Ellen Elizabeth Wylie.  The family history suggests that Ellen died shortly after her daughter Mary's birth and that Mary was raised by an unknown relative, possibly a grandmother while her Father James remarried. I would like to find out more about the second family of James Lyttle and if there are any descendants still living in the Belfast area.

Some work has already been undertaken by my cousin Geraldine and she has been able to provide me with the following information:

James Lyttle married Sarah McKenna in 1907
They had three children

Lavinia born 1908
James born 1911
Austin born 1913

James Lyttle died in 1913 of Pernicious Anaemia about three and a half weeks after the birth of Austin. Geraldine has recorded that both the birth of Austin and the death of James were registered on 10 May 1913.
Geraldine found James in the 1901 Census of Ireland living with his father in Bentwick Street, Belfast where he was recorded as age 24, a single man working as a Solicitor's Assistant.
Mary converted to Catholicism to marry Robert Lynam on 9 June 1920 in the Roman Catholic Cathedral in Monaghan.
As we mentioned, we had the good fortune to meet up with Colleen when we arrived in Belfast. Here, she talks with Carina about her ancestral ties to Belfast – and what she would like to discover the most:
Thanks for that, Colleen. Now, this was going to be quite a unique homelands feature for the following reason:
Colleen and her cousin would be in Belfast at the same time as Carina and myself.
Jayne McGarvey (our Green Room genealogist) is a Belfast native. We commissioned Jayne to write a report for Colleen based on the information provided (more about that later).
We would present Colleen with the report at PRONI (Public Record Office of Northern Ireland) – where Colleen, her cousin, Jayne, Carina and myself would all meet up.
In fact, here is a picture of 3 of us outside the offices. But, let's not get ahead of ourselves – let's move on to sharing what we discovered before heading off to Belfast.
Right, Colleen – let's see what we can do for you – and all of our other Green Room members!
What We Discovered.
Colleen provided us above with her known set of family connections, but we thought we'd better do a bit of research before we travelled to Belfast and get our story straight before we asked any more questions.
Records we discovered:
Note: Before we went on the trip – we asked Jayne McGarvey to compile a genealogy report based on the details provided by Colleen. Her results were extremely interesting – and clearly show the benefits of having a professional genealogist involved in your search at crucial stages. You can see that Genealogy report by clicking here. Jayne put a lot of effort into researching the information provided by Colleen – using primary sources available at PRONI in Belfast.
The primary finding from Jayne's investigation and report was that Colleen had been tracking the wrong great-grandparent (James Lyttle) in her previous research. Jayne then spent some time constructing the correct lineage and we developed the following family tree diagram to share our understanding of Colleen's Belfast-based ancestors.
A couple of notes:
James Lyttle was married twice. His first wife, Ellen Elizabeth Wylie died shortly after childbirth. He then remarried to Sarah McKenna in 1907. It was the descendants of this marriage that Colleen was particularly interested in discovering.
It quickly became apparent that while the Lyttles lived and worked in Belfast City, their roots were further west in County Tyrone. However, for this feature we will focus on Belfast City.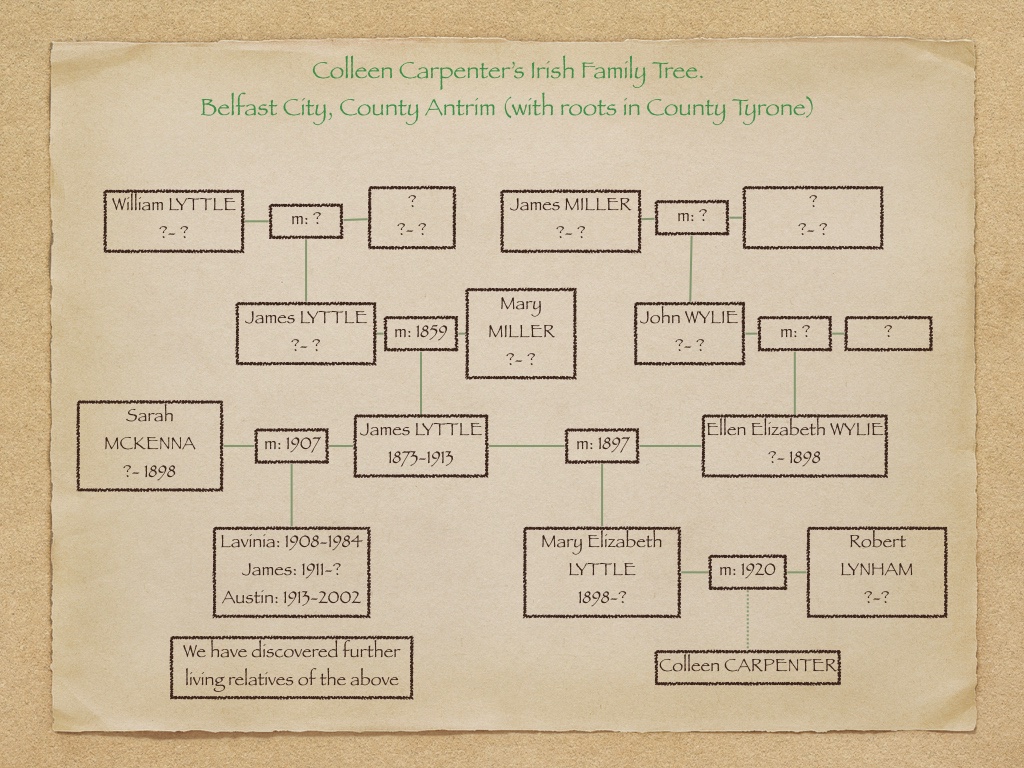 So, we now had the records and a destination for our travels – the City of Belfast in County Antrim! Before we hit the road, let's have a closer look at the surnames involved – both of the region and of the family in question.
The Surnames and Families of County Antrim – and the Belfast City Area.
Let's start our introduction to Belfast by looking at the family names provided by our members whose ancestors came from County Antrim:
As you may notice, there are a LOT of different surnames here for a single county. This reflects the many cultures who met and mingled in this area over the centuries – Irish Gaelic, Scottish Gaelic, Scottish lowlands, English, Norman and Huguenot. Are any of your Irish surnames shown above? Just for now, let's have a closer look at the surnames in the family tree shown at the beginning of the feature.
The Surname Lyttle/Little.
The surname Lyttle/Little can be of different origins in Ireland. Firstly, we have the common English surname Little. Most Littles/Lyttles found in the north east of the island of Ireland came from England/Scotland from the 1600s. In other parts of the country, the name can also be of Gaelic origin. Some names contain the Irish word "beag" in their constitution. "Beag" means "small" or "little" when translated to English. Some of these Irish Gaelic names were anglicised as Little in parts of the Island.
The map shown gives the locations in 1850 for families with the Little surname across the island ("Little" – rather than "Lyttle" was the more common spelling of the name at the time). Click here to see the Little surname on John Grenham.
How about you – do you have the surname Lyttle/Little in your family tree?
Other Given Names.
The following surnames also feature in Colleen's Belfast family tree:
Wylie/Wiley: This is an English topynomic surname that arrived in Ireland about the 1600s.
McKenna: A very numerous surname in the north half of the island. Probably the most numerous were the McKennas of north County Monaghan.
Lynam: The Lynam spelling is quite rare in Ulster. It is typically a Gaelic names with origins in midlands counties. There is also an English origin name of Lynham – but this is much less prevalent in Ireland.
Right – here is the plan for the rest of this feature: We will take a slow meandering tour through the places and history of Belfast and the surrounding area – before we arrive at the place where the Lyttle family lived and worked. We do hope we'll continue to have you for company!
Belfast City and Environs – Down Through the Ages.
What do you think of when you hear mention of Belfast City? Maybe you consider it a home-city for one of your ancestors? Maybe you think of the recent peace-process? Maybe you think about the Titanic? How about "The Troubles" of the 1960s-1990s?
For a modest city, Belfast has a lot of history and TV airtime attached to it. This makes it a fascinating today as you wander around the docks where the Titanic was built and launched, or the TV studios that feature the massive sets for Game of Thrones. Visiting the Republican and Loyalist areas of the cities – and seeing the political murals first hand is an experience not to forget. There are layers of history across the streets of the city. You will also bump into some the the friendliest people in the world – and they're not short of an opinion or two! Have you ever been to Belfast?
In Samuel Lewis's Topigraphical  Dictionary of Ireland – we hear about the origins of Belfast and its castle:
King John marched his army to this place, in 1210; but no notice of any town occurs till the year 1316, when the destruction of the town and castle by Edward Bruce is recorded. The Irish chieftains, having by his aid recovered their ancient possessions, rebuilt the castle, of which, through the intestine divisions in England and their union with the English settlers in Ulster, they kept uninterrupted possession for nearly two centuries, till the reign of Henry VII., when the Earl of Kildare, at the head of a large army, in 1503, took and destroyed the town and castle; but the latter was soon afterwards repaired by the native chieftains, from which, however, their forces were again driven by the earl, in 1512, and compelled to retire to the mountains.
About 10 miles out the shores of the lough you will find the town and castle of Carrickfergus – built by the Norman lord John deCourcey in 1177AD. The town predates the town of Belfast by a few centuries – and was the larger of the two for quite some time after that. This was the first place we headed to on our arrival in Belfast:
Here we have Carina outside the castle on a chilly autumn morning.
I think that has inspired me to share our first piece of music – here we have the timeless "Carrickfergus" as played and sung by Celtic Woman:
Next, it was time to head into Belfast City itself.
Into Belfast City.
In the 1300s, the area occupied by the city was held by the Gaelic Clannaboy O'Neills. Belfast really grew as a settlement from the 1600s,  initially settled by Protestant English and Scottish migrants. It's easy to forget just how close this part of Ireland and Scotland are to each other until you arrive here. Boat traffic was frequent and relatively easy between the two shores for many centuries.
On our arrival in the city, we headed to the oldest existing part of Belfast – called "The Entries" and dating back to the 1600s.
However, it was not until the mid 1800s that Belfast really grew in both industrial stature and population.
1850 to the early 1900s – An Industrial Powerhouse.
By the late 1700s, Belfast was primarily a merchant city that centred on the Linen trade. We read from Samuel Lewis:
Belfast owes much of its importance to the increase of the linen trade of Ulster, of which it is now become the grand depot. In 1830 a very extensive mill was erected for spinning linen yarn upon the same principle as in the chief houses at Leeds, in order to meet the increasing demand of the manufacturers; and, in 1832, a large cotton-mill was adapted to the spinning of the refuse flax of the linen-mill, for the use of the canvas weavers. In these two mills more than 700 persons are employed, and, since their erection, a linen cloth manufactory has been established on a very large scale at Ligoneil, two miles distant, which is the first of the kind in this part of the country.
The increase in industry from about this time saw the start of the major population growth in Belfast. The opportunities attracted Roman Catholics from western parts of Ulster to a town that had been a Protestant stronghold up to that time. In 1800, the population of Belfast was about 20,000. Belfast was granted City status in 1888. By 1901, this population had grown to 349,000. This increase in population came from the opportunities offered by growing Linen, Shipbuilding and Rope-making industries.
Belfast was a city that held much attraction for the likes of the Lyttle family from County Tyrone. James Lyttle married Ellen Elizabeth Wylie in County Tyrone in 1897 – but their first child was born in Belfast, the city that they called home.
Wandering the streets of Belfast today, it's evident that much of the architecture comes from the late 19th century – a period of huge growth in terms of prosperity and population.
We wandered over to the new "Titanic Quarter" part of Belfast. This has recently become a major tourist attraction focusing on the ship-building history of Belfast and especially The Titanic, which was built and launched on these very docks.
The two sister ships – Titanic and Olympic – were built here side by side in 1911.
It is quite amazing to wander around the dock today – recalling how it must have been a hive of activity with the deafening sound of metal on metal all around. Here we see a short video featuring stills from around the time the ships were built.
And just below, Carina stands at the point where the Titanic hit the water for the first time.
While the City is a wonderful place to wander around to simply take in the sights – we decided to head off to the Ulster Folk and Transport Museum located in the nearby village of Cultra. There, you can find entire streets of houses reconstructed from the late 1800s and early 1900s. Many of the buildings are occupied by actors who will (very realistically!) tell you about life at the time.
We met up with Jayne McGarvey – who lives just up the road from the village. We asked her to introduce us to the area – and tell us a little more about her very own City of Belfast:
So, what were the houses like at the time the Lyttles lived in Belfast? We had the good fortune to find one such fully-working house – and it so happened that the owner, a man by the name of Victor, was there to give us a tour around his home!
Thanks very much for that, Victor!
We could have spent hours wandering around this wonderful outdoor/indoor museum – taking in the history and chatting to the friendly actors. However, it was almost closing time so we headed back to Belfast. I think we'll have another piece of music before we head out – here we have the Belfast lad himself, Van Morrison – with The Chieftains with a lively Belfast song: "I'll Tell me Ma"….
So, we headed back to Belfast for the night. The next day we were due to meet with another Green Room member and Belfast native, Pádraic MacCoitir as we bring our history of Belfast city up to modern times.
Belfast at the time of The Troubles
In 1921/22, the island of Ireland was partitioned into two political entities, the Irish Free State was formed (later to become the Republic of Ireland) as an independent nation and the six Ulster counties of Derry, Antrim, Down, Armagh, Tyrone and Fermanagh remained in the United Kingdom with the new name of "Northern Ireland". The majority population of Northern Ireland were in the Protestant tradition. Over the years, positions of influence and power – including government and police force – were held by individuals who would identify as Protestant. The two communities appeared to exists in a relatively peaceful (although often segregated manner) for a number of decades following partition – but this all changed in the late 1960s. What became known as "The Troubles" affected much of Northern Ireland for the following 30 years – with a lasting effect on particular parts of Belfast.
Over that time, the violence of The Troubles led to over 3,000 people losing their lives with another 50,000 casualties. The social and commercial life of much of Belfast was in tatters for most of that time. A constant presence of military road-blocks and security checks made life very difficult for many of the residents – and the regular threat of paramilitary activity made any sort of commercial investment foolhardy. Many left Belfast during this time with their families to start a new life elsewhere. From a high of about 400,000 people during the second world war, the population dropped to about 280,000 by 2011.
It was only with the Good Friday agreement of 1998 and subsequent paramilitary ceasefires and surrender of weapons, that a meaningful political dialogue resumed in the province. Now, about 20 years later, Belfast appears to be a peaceful place – the signs of increasing prosperity and commercial confidence are all around the centre of the city. However, there is always a delicate balance of political power in the background – and at key times of the year (e.g. July) it feels that marches and demonstrations could tip into violence in a flash. Also, it's quite noticeable that the amount of "Peace Walls" around the city are growing in size rather than shrinking.
We met up with Pádraic MacCoitir at the Short Strand area of East Belfast. Pádraic comes from the Falls Road area in West Belfast and from the Republican tradition. He was one of a number of political prisoners released as a condition of the Good Friday agreement in 1998.  The Short Strand is an area where a Republican community lives adjacent to a Loyalist community. Here, Carina asked Pádraic to tell us a little more about the area in general and this peace wall:
Thanks very much for that insight, Pádraic. As we wander around the area today – it's amazing how peaceful it is – not a roadblock or inspection point in sight. But, let's put things into perspective. In the following video we see the Ballymurphy Riots 1971 – which happened following the introduction of Internment:
It's a very brief reminder of how bad things can get so quickly – and it can be so easy to forget how bad things were. I think the vast majority of people in Belfast today really value their peace and freedom of movement. Many social and discrimination problems still exist, but hopefully things will progress through community, social and political dialogue.
Pádraic then took us to Milltown Cemetary on the Falls Road. We headed for the Republican Plot – and here he shares a little history (and an anecdote or two) with Carina:

We spotted this mural in the Ballymurphy area – I think that one statement on the mural would resonate for the people of Belfast in particular:
"We must take no steps backward, Our Steps must be onward".
What do you think?
Belfast Today.
When you walk around the centre of Belfast today – you see a pleasant city with lots of pedestrianised streets, plenty of tourists and young friendly local faces. Cranes dot the skyline and there is clearly a lot of investment in the area. One of the biggest draws of the city is the Titanic Experience Centre – well worth a visit for half a day. It gives you a firm idea of the history of this city as well as that very famous ship.
Belfast even boasts what is currently the tallest building in Ireland – among a rapidly modernising city skyline.
It seems all of the historical buildings in the city are being modified into some type of tourist amenity or attraction. You can now stay in the Titanic Hotel – developed around what were the Harland and Wolff offices, the place where the Titanic was designed.
I do hope you enjoyed that tour around the places, history and sights of Belfast City – I know we certainly did! Thanks again to Jayne McGarvey and Pádraic MacCoitir for showing us around their home town – and for offering such a personal perspective.
Next, we head to the towns and places where the Lyttle family lived and worked.
Where the Lyttle Family worked and lived.
Looking for the places that the Lyttle family lived and worked in Belfast City provided an interesting challenge for a few reasons:
Many of the residences listed in Jayne's report no longer existed.
The families came from County Tyrone originally – so many of their places of residence, birth and marriage are to be found in a different county. In particular, Tyrone was the place to which Lizzie Lyttle returned following her mother's death. It was the place where she grew up and went to school.
We were unable to find where in Belfast James Lyttle worked as a "Fireman". The chances are that he was a fireman tending to an industrial fire as opposed to a Fireman in the way we know it today.
Maybe we will include the Lyttle family in a future County Tyrone feature – what do you think?
On the other hand, we do know that James Lyttle lived on Auburn Road in 1901. This is off the lower Donegall Road/Pass and the street no longer exists, having been developed for new housing estates.
James Lyttle married for the second time in 1907. Following his residence in 1901 on Auburn Street he moved a number of times. It's clear that most of these lodgings were short-term. Following their marriage in 1907, the couple settled down on Chambers Street where they lived until James early death in 1913. Chambers Street still exists, but has mostly been cleared and turned into a car-park.
When James died in 1913, he was buried at Dundonald Cemetery just outside the city – and later joined by his wife Sarah and some of their children. Carina and myself headed out to Dundonald to locate their grave and were quite surprised at what we discovered. Here, we are helped by a lovely local girl who works in the cemetery office:
So, although we found the plot where the Lyttle family were buried – there was no gravestone or marker. We checked a number of times to make sure this was correct.
Back in PRONI, we met with Colleen and her cousin to review some of Jayne's findings. You may recall, Colleen wondered earlier about what became of her grandmother's step-family – the children of James Lyttles second marriage to Sarah McKenna. In this video, Jayne shared her discoveries with Colleen – as well as showing her a very special record held in PRONI.
Like all children in Ireland's school system, Lizzie Lyttle's presence was accounted for each day in a Register Book. Jayne discovered that book for Lizzie's County Tyrone school and shared her discovery with Colleen.

So, the final question for Colleen was: "How are you feeling now?" This is how she responded:
You are very welcome Colleen – it was wonderful for us all to be in the same place for this very special Homelands Feature.
So, that wraps up our trip around Belfast City – all on the trail of the Lyttle family.
As always, we like to conclude a visit to an Irish Homeland with a video capturing just some of the sights. Here we go with a composite video for Belfast:
In Conclusion.
This article intends to provide all of our readers with Belfast City (and County Antrim) Roots – including Colleen Carpenter – with a good base to discover more about the details of their ancestors. We hope that you enjoyed this tour around Belfast with a look into the life and times of the Lyttle family. There are still a number of questions remaining about the Lyttle family – but perhaps we will get to the bottom of some guesses and probabilities with your help over the coming weeks and months.
This feature opens up a lot of questions for Colleen – We're happy to help her develop the "investigation" further in the comments section below. Let us look at this Homelands feature as a "starting point" – not a conclusive finale! Remember, you can see a more detailed review of the available records in Jayne McGarvey's Genealogical report here.
What do you think? I know we have many top class "investigators" inside our membership!
How about all of our readers? Were any of your ancestors from Belfast? Do let us know in the comment section of the Green Room forum.
There we are – our featured Green Room member of the month – Colleen Carpenter from Florida in the USA! Thanks very much for providing us with the details of your family, Colleen – we hope it was a pleasurable and useful experience for you – and for all of our members.
What about you? Do you have details, stories or questions to share about the Belfast ancestors in your family tree?
Slán for now, Mike & Carina (and Jayne!).
---
Like to become a member? Here's how: